"Gluten-free? Whats that?!" This was my reply when someone told me of their diet. I had never heard of it before, this was back in 2002, I have since seen the increase in GF diets, met many people with coeliac disease, and I've even been on a GF diet myself due to misdiagnosis.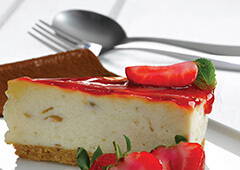 There seems to have been a huge rise in the number of GF products on the market in the last 14 years and a rise in customers buying them. Many people have gone GF as a lifestyle choice,  or because they have been diagnosed with an intolerance for gluten and as more people became aware of what coeliac disease is and how gluten can affect the body.
In the early days of GF foods, I remember thinking how hard it must be for someone with coeliac disease to get something that was GF and was also edible, affordable, and a suitable replacement.
Back then the rock-hard GF breads and the lack of choice was sad to say the least, but move on 14 years and wow what a turn around. There are specific sections of the supermarkets for GF/ free-from and even own label goods showing how much the GF customer means to the retailers. At Bidvest Foodservice we have our own brochure and range of GF goods available for our foodservice customers to provide their customers with a solution.
The standard of products is fantastic now and we have some excellent GF choices such as our GF Carrot cake. As the demand for GF increases and more people move onto a GF diet we will likely see an increase in the range with higher standards and more Gluten containing foods and drinks being replicated.
For more information on gluten-free, check out the links & recipes below:
Introduction to gluten-free
Our gluten-free range and favourites
Our gluten-free suppliers
Fancy having a go at creating your very own gluten-free recipe? Try adding our gluten-free vegetable pizza or gluten-Free chicken tikka recipe on to your menu as an alternative!