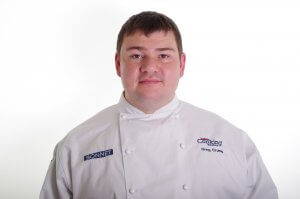 Christmas is a busy time in professional kitchens, with increased footfall and longer hours indicative of the season. However, it is also a time when operators can really increase profits with a few simple menu changes. Here Hobart Cooking Solutions Development & Product Chef, Greg Crump, suggests some upselling hints and tips to 'wow' customers throughout the festive season and help boost incremental sales.
From starters to desserts, turkey to trimmings, getting the all-important Christmas feast just right has never been simpler.
Festive soup in seconds
Add raw onion, broccoli and crumbled stilton into a deep half size gastronorm, cover with vegetable stock, season and cook for just 4 minutes in the Bonnet High Speed Steamer. Blend with a stick blender to serve up the bright green Broccoli & Stilton soup, rich in nutrients and colour.
Tremendous turkey
Programme your combi to steam the turkey first for extra succulence, then change to combi steam to cook all the way though without drying the breast before finishing up on convection with the vent open for that enviable crispy skin.
Worried about cooking times? Be sure to use the probe cook on the Bonnet Combi when cooking turkey to ensure it's the required temperature of 75°C.
Don't neglect the roasties
The vent combi mode will remove any excess moisture and create a dry heat for the crispiest roast potatoes.
Festive favourites
Cook pigs in blankets to perfection on combi mode at 170°C and 40% steam in the Bonnet Combi.
Veg with edge
Steam root veg in the Bonnet High Speed Steamer to maintain all the goodness and colours, with carrots taking as little as 45 seconds to cook.
Try throwing sprouts in the Bonnet Precipan at 180°C with butter, pancetta and chestnuts for that wondrous Christmas glaze.
Or, surprise guests with steamed orange infused sprouts: dispense 3L of water in the Bonnet Precipan, add the juice and zest of 3 oranges, put on boil mode and set to full 100% intensity rapid boil, place the sprouts in a perforated 1/1 gastronorm and sit on the shelf runners, close the lids and cook until soft.
Stuffed to perfection
Keep stuffing moist on the inside but with a crispy crust by cooking on combi mode using 60% steam at 165°C.
For the love of gravy
Caramelise onion, celery and carrots in the Bonnet Precipan at 200°C on sauté mode to create a fantastic stock for Christmas gravy. At the same time, roast off turkey bones in the Combi at 200°C on convection mode, until golden brown and when ready add to the sautéed veg with the required amount of water from the volumetric dispenser tap. Reduce in half the time using the Bonnet Precipan to get the perfect finish.
For ultimate ease, the Bonnet Equapan allows caterers to cook stocks and gravies with its 18L capacity, and with a slide of a lever, drain the liquid into a deep gastronome sat on runners inside the door.
For those with a sweet tooth
Steam Christmas puddings in super quick time, using a Bonnet combi, which gets to the temperature quicker and steams at 105°C, instead of the 98°C industry standard of most conventional steamers.
For further information on Hobart Cooking Solutions please follow them on Twitter at @HCS_Cook, see www.hobartuk.com/cooking or telephone 0844 888 7777.