Everyone loves a meal with good company: nothing evokes the season like an evening out in the sunshine. But many restaurants, pubs and cafes are missing a trick by not considering the grey pound and how they can attract it.
We are an ageing population – by 2040, nearly one in seven people will be aged over 75 and, as the number of people in their 80 and 90s grows, there will be a greater proportion of the population with visual impairments, mobility issues and degenerative conditions such as Parkinson's disease and dementia.
The baby boomer generation, the first to grow up enjoying meals out, are now reaping the benefits of generous final salary pension schemes; they don't see why getting older should curtail their enjoyment of dining out.
Quite apart from a casual meal out with friends, celebration days with children and grandchildren are likely to peak in the summer – according to the Office for National Statistics, wedding days tend to peak towards the end of July and beginning of August, so there are anniversaries to mark with family and friends.
Yet anecdotal evidence indicates that many hesitate to eat out because pubs and restaurants are not embracing their needs in the way that the sector has done in many instances with children, offering special cutlery, tailored menus and activities to make the meal go more smoothly.
So, what would encourage older customers? The good news is that a little sound customer sense, rather than a lot of investment, can make all the difference.
Some simple changes will have an immediate effect – we know that people's eyesight is often the first sense to deteriorate. So, having a large print menu available will help everyone feel included. If you try to avoid using italic fonts, and remember that the Royal National Institute for the Blind recommends that no printed items should appear in less than 12-point font for anyone's use, you will help all your customers. For those needing extra help, it would be worth considering also printing a menu in 18-point or above which you can offer discreetly.
Restaurants are busy – they often present customers whose hearing is less than perfect with a real challenge because following conversations can be tricky with a lot of background noise. Hearing loss may also affect more of your customers than you might suspect – a fifth of all adults and more than half of all those people over 80, suffer from hearing loss. But you can help, again in simple ways, so that your customers enjoy their visit more and you benefit from repeat custom.
Think about which table you will put people on; if someone books and mentions a special occasion which would suggest older people will be among the party – perhaps for an 80th birthday or a 50th wedding anniversary, you might be able to place them at the edge of the restaurant or in a quiet corner, away from low ceilings or noisy air conditioning or ventilation units. A quieter area will also make moving around easier for older people.
You could discuss any particular assistance required with any members of the party access would be the example, but be proactive – discussing areas of the restaurant which would be perfect to sit guests considering features such as high ceilings, better lighting or ease of access to toilets.
You can also help customers who are living with dementia or conditions such as Parkinson's, with some simple adjustments. They are just as likely as your other customers to enjoy a glass of wine, but may need a different style of glass; tremors, Parkinson's disease and some medication might mean that wine glasses are tricky to handle, so do offer a tumbler as a much easier substitute for them to handle without embarrassment.
If you know that a party will include someone with dementia, do consider using deeper plates with a rim, which help to avoid spillages. The choice of colour can help too, if you have different options – blue plates work well because, as sight and perception deteriorates, a coloured plate helps the food stand out against its colour far better than, say, chicken and rice on a white plate. Certainly, a plate with a coloured rim greatly assists those customers whose sight may not be as good as it once was.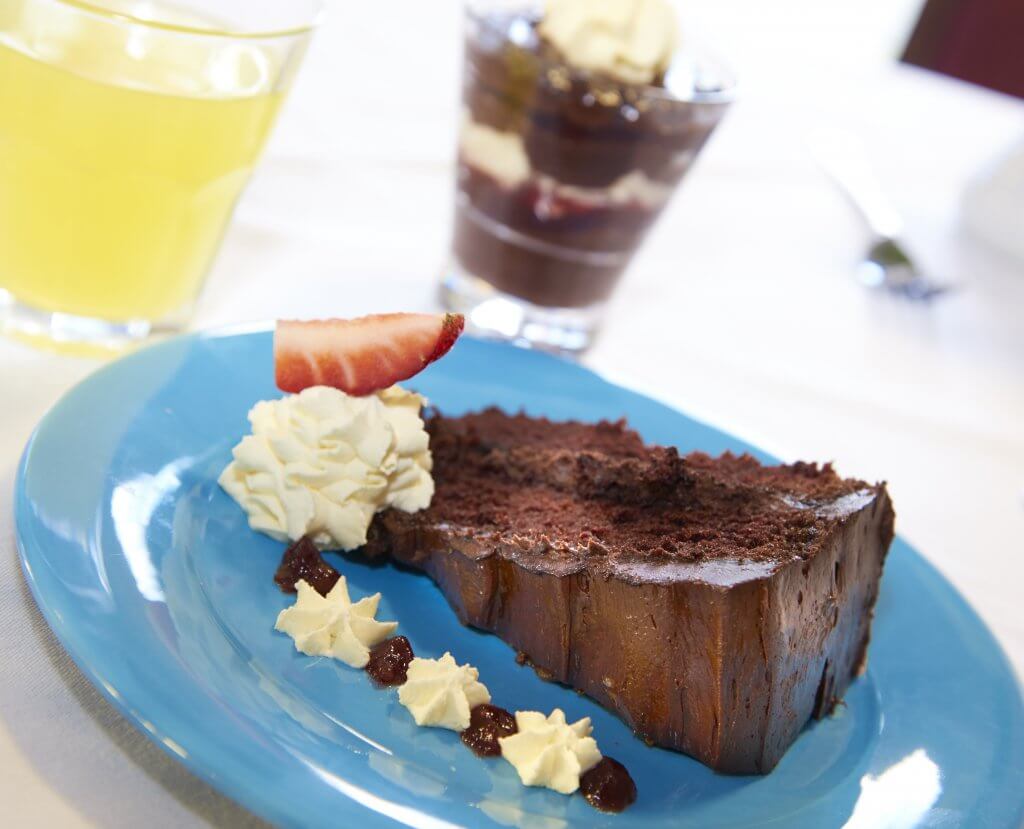 We introduced this style and colour of crockery in our 120 homes, and since then residents have told us they enjoy their food more and they are eating more. Many pubs and restaurants use a variety of plates to serve specific dishes on so a deeper plate can often be provided without the person feeling, or appearing, singled out.
These small changes can make a huge difference for all those family meals and special occasions which not only support the catering trade but also strengthen family bonds and create special memories. With customers firmly at the centre of your thinking, older people will make the grey pound a valued part of your business.