On the 6th June, an impressive line-up of 750 guests, including Michelin- starred chefs and hospitality luminaires, gathered at the London Hilton on Park Lane for the prestigious Craft Guild of Chefs annual awards.
Michael Caines MBE was awarded the prestigious Craft Guild of Chefs special award for his outstanding contribution to the industry.
Chef Raymond Blanc who attended the event, took to Twitter to show his support;
"Huge congratulations to @michaelcaines – after 3 years with me @lemanoir in 1989! He has gone on to have an incredible career, now Chef Patron of @Lympstone_Manor – last night he was awarded @Craft_Guild Lifetime Achievement. I felt so proud."
Caines was not the only chef Raymond Blanc congratulated on Twitter. Of Gemma Amor's Banqueting and Event Chef Award win he said:
"Congratulations to Gemma from @sodexoPrestige – It is 5 years I have now worked with the Sodexo team at #JardinBlanc and soon #RoyalAscot – Gemma was awarded Banqueting Chef of the Year @Craft_Guild awards – well done!"
Of the Craft Guild of Chefs organisation itself, he added:
"@Craft_Guild and @AcadCulArts are two of the most important associations to the future of our industry. They are crucial- to develop the craft and reinvent our industry to attract and welcome the young!"
Michel Roux Snr who also attended the event tweeted:
"What a lovely evening and dinner….Congratulations to all the winners #CGCAwards"
Award winning chef Cherish Finden took to Twitter to praise the food:
"Thank you @ChefMarshall13 @carpigianiUK @Craft_Guild 'CGCawards for the hospitality. The food was exquisite and the service impeccable."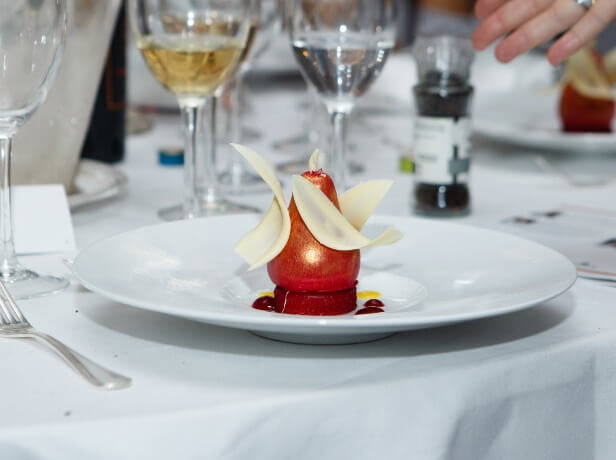 The menu was specially created by Hilton Park Lane executive chef Anthony Marshall and his team and included three courses with two alternative desserts. The meal started with a three-colour beetroot with fresh goat's curd, cherry gel and pistachio and hazelnut granola, followed by lobster ravioli and then Scottish beef served with morels, asparagus and Emmental potato and thyme sauce. The two desserts were a vanilla, Cointreau, raspberry pear and a chocolate cremeux, passion fruit, freeze-dried dark balsamic foam.
Now in its 26th year, the Craft Guild of Chefs continues to celebrate culinary excellence. Seventeen awards were presented on the night, all of which recognised and acknowledged the remarkable talent across the UK and beyond. Previous winners include household names such as Alain Ducasse, Pierre Koffmann, Angela Hartnett, and Clare Smyth.
Andrew Green, Craft Guild of Chefs chief executive welcomed all guests by saying: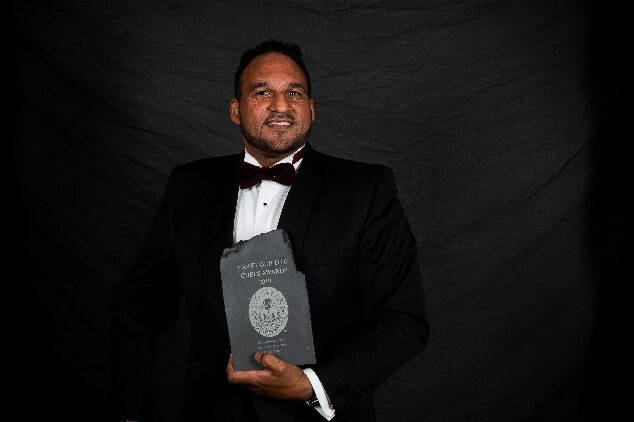 "These awards are the highlight of the Craft Guild calendar, where we all have the opportunity to recognise chefs from all sectors of our industry, whether they be apprentices who have made an impact in the early stages of their career, to the more seasoned professionals that maybe haven't had the recognition they deserve."
He added, "It's also important we recognise the great work so many of the Guild members do. They give up their own time to travel around the country organising competitions year after year, which adds value to a chef's ambitions and experience and generally raises our culinary profile as a whole."
The dazzling evening ceremony was hosted by English chef and television personality James Tanner, and the awards were presented by Craft Guild of Chefs vice presidents Steve Munkley and David Mulcahy.
The first award of the night honoured Miller & Carter with the brand-new Chef's Favourite Branded Group award. Voted for by Craft Guild of Chefs members and other professional chefs, the significant new award recognises restaurant groups demonstrating food quality and consistency, and a menu with variety and originality, accompanied by a suitable wine menu.
Keith Edwards, head of food procurement from Miller & Carter said:
"I'm overwhelmed to pick up this award on behalf of Miller & Carter. It's a brilliant achievement. I'm so proud to represent Miller & Carter. Craft Guild of Chefs is a great organisation."
This year's judging panel consisted of established chefs and professionals across the foodservice industry. These included Steve Munkley from Royal Garden Hotel, Consultant Pastry Chef Sarah Hartnett, Adam Smith from the Dorchester Collection and Craft Guild of Chefs vice president Nick Vadis from Compass Group UK & Ireland.
Following the Chef's Favourite Branded Group award, 16 additional awards were presented to including the prestigious Craft Guild of Chefs Special Award. This year the Special Award honoured Michael Caines MBE for his outstanding contribution to the industry. Chef patron of Lympstone Manor in Exmouth, Caines is one of Britain's most-established chefs. He has appeared on television programmes such as BBC 1's Saturday Kitchen, MasterChef, Sunday Brunch, Great British Menu, My Kitchen Rules and The Great British Bake-off: An Extra Slice. The holder of two Michelin stars for 18 consecutive years, he was awarded a Michelin star for Lympstone Manor just six months after opening. In addition to his cuisine, he was also recognised for his contribution to the community, which is outstanding. His creation of the Michael Caines Academy at Exeter College was hailed as an excellent path to encourage and nurture the future generation of talented restaurateurs, chefs and waiters.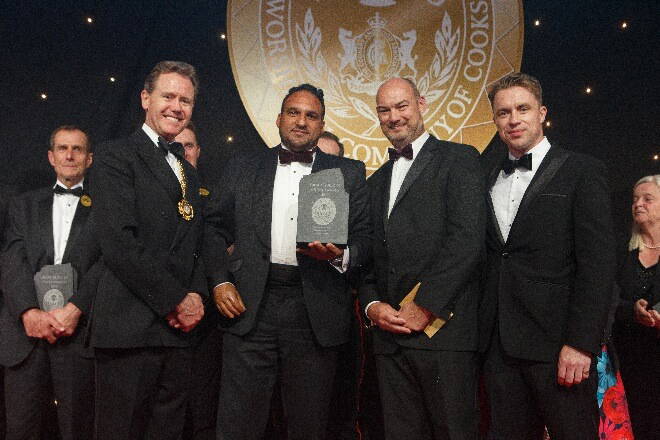 Of the award Michael Caines (pictured left) said:
"I'm extremely proud. It's most unexpected. It's lovely to be recognised in this way by the Craft Guild of Chefs. In a room full of chefs celebrating the achievements of others, to receive this award in front of all the other award winners is an extremely proud moment in my career. I'm very honoured to receive it."
He adds, "The Craft Guild of Chefs does incredible work. What I do contributes and feeds into the wonderful work they are doing. The Guild represents the future of the industry, in terms of making sure people recognise it as a profession that's full of talent. If we don't promote or celebrate the achievements of those within the industry, we won't have a voice and be overlooked. I think it's important people recognise the contribution that hospitality makes, and the artistic value chefs bring to our industry as a destination experience for people that come and enjoy food. Chefs are centred to that and need to be recognised. And we are doing that, as we do every year."
The Restaurant Chef Award was awarded to Pascal Canevet of La Maison Bleue in Suffolk, who was rewarded for his French modern cuisine and locally sourced approach.
Canevet said:
"This means a lot because it is nominated by other chefs. I've never done any competitions because I didn't think I would be good enough, so this is absolutely amazing. And especially with the runner up's, Jean-Philippe Blondet and Kuba Winkowski, whom are both great chefs. Winning against them is absolutely fantastic."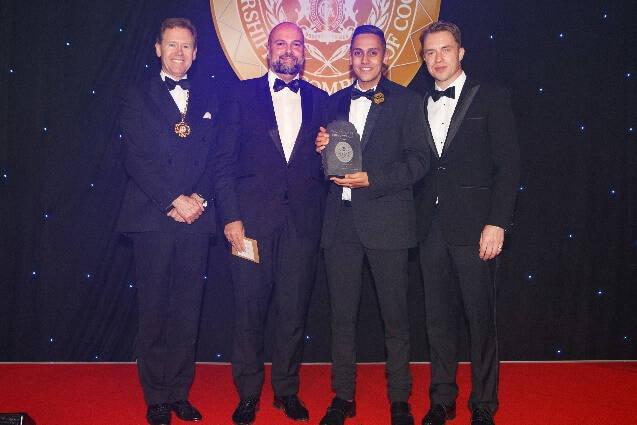 The Young Chef Award went to Rick Owens. Owens trained at Westminster Kingsway College before becoming a commis chef at Raymond Blanc's world renowned two Michelin-starred restaurant, Le Manoir aux Quat'Saisons.
Owens (pictured left) commented:
"It feels good. I'm really proud of myself. The Craft Guild of Chefs are very supportive. They have helped me a lot with competitions and college. They have really helped me progress in my career. I'm really thankful for them.
Owens shares why he thought he won the award, "I've done many competitions. I always give my 100% and push myself. I want to thank my work and my parents."
And the Apprentice Chef Award was awarded to Paige Hill, Royal Garden Hotel
Hill (pictured below) said:
"I am over the moon. It's unreal. I work so hard and it has all paid off. The Craft Guild of Chefs means a lot to me. I take part in many Craft Guild of Chefs competitions. They've mentored me through many competitions. I'm very grateful for them being there for me, not just as a chef but as a person too. It really means a lot to me."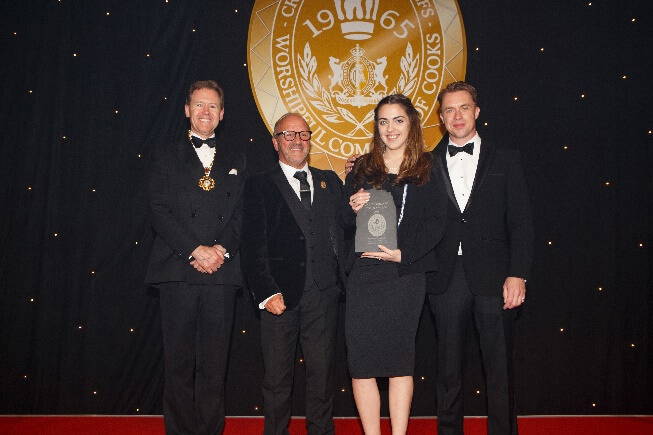 The people's choice award was voted for by the organisation's members and other industry colleagues. Nominations were sought for chefs from any part of the hospitality and catering industry and either for a specific achievement or for commitment over many years. Murray Chapman from First Contact Chefs was presented with this award for his tireless work promoting and encouraging students into the foodservice industry whilst still maintaining his own business.
Chapman said:
"It's an amazing feeling. The Craft Guild of Chefs is a great organisation that builds towards the development of young people and builds on skills that are sometimes lost in our industry. It's very important that we grow and we work closely together to achieve more with the Craft Guild of Chefs."
Full list of winners
Chef's Favourite Branded Restaurant 2019 sponsored by Santa Maria
Miller & Carter
Apprentice Chef Award 2019 sponsored by Compass Group
Paige Hill, Royal Garden Hotel
Armed Services Chef Award 2019 sponsored by Vestey Foodservice
Cpl David Davey-Smith, Royal Air Force
Banqueting and Event Chef Award 2019 sponsored by Major International
Gemma Amor, Sodexo, Ascot Racecourse
Chef Lecturer Award 2019 sponsored by Hotel, Restaurant & Catering Show 2019
Andrea Ruff, The Claire Clark Academy
Competition Chef Award 2019 sponsored by McCormick UK Ltd
Cpl Ian Mark, Royal Air Force
Contract Catering Chef Award 2019 sponsored by Kerry
James Larkins, Compass Group
Development Chef Award 2019 sponsored by Essential Cuisine
Laurence Tottingham, Oliver Kay
Innovation Award 2019 sponsored by Quorn Foods
Andrew Clarke – St Leonards
Pastry Chef Award 2019 sponsored by Carpigiani UK
Sarah Frankland, Penny Hill Park Hotel
Pub Restaurant Chef Award 2019 sponsored by Bidfood
Dave Wall, The Unruly Pig
Public Sector Chef Award 2019 sponsored by Rational UK
Ryan Hopper, ESS Defence
Restaurant Chef Award 2019 sponsored by Hoshizaki UK
Pascal Canevet, La Maison Bleue
Young Chef Award 2019 sponsored by De Manincor
Rick Owens, Le Manoir aux Quat'Saisons
People's Choice Award 2019 sponsored by Nisbets
Murray Chapman, First Contact Chefs
New Restaurant of the Year Award 2019 sponsored by Jelf Insurance
Alex Bond, Alchemilla Restaurant
Special Award 2019 sponsored by Sodexo
Michael Caines