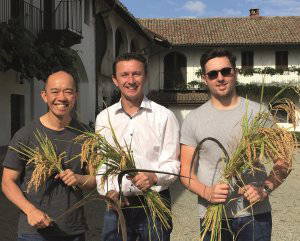 The Tilda Chef competition returns to Salon Culinaire at Hotelympia 2018, next March (Tuesday 6th March, 12-12.45pm), this time celebrating talented chef pairings.
Ten pairs of chefs will battle it out to become Tilda Chef Team of the Year winners scooping a two-day trip to the Po Valley in Italy, with the chance to experience the Arborio rice harvest and indulge themselves in the rich culture of Italian food.
Craig Dillon, Head of Foodservice, Tilda UK, says: "We're always impressed with the level of talent and expertise on display during Salon Culinaire and hope that by adding the team element we will see even more skill and ability.
"Rice is such a versatile ingredient and Tilda Chef Team of the Year is a great opportunity for chefs to get creative and experiment with our speciality variants, which help make dishes more premium meaning chefs can command a higher price tag on menus."
Run in conjunction with the Craft Guild of Chefs, this competition is for teams of two chefs, who will be given 45 minutes to prepare, cook and present a main course dish and dessert using Tilda's speciality rice as the base ingredient in both recipes. Teams can choose between Tilda Basmati & Wild or Fragrant Jasmine for the main course and Arborio for the dessert.
In addition to the fantastic culinary trip to Italy, the winning pair will also receive the Tilda Chef Team of the Year trophy, plus the top three teams will get a glimpse into the stringent standards that are taken to remove any broken grains at Tilda's rice mill in Rainham. Salon Culinaire medals, commemorative plates and framed certificates will also be awarded.
Teams have until Friday 24th November and can enter Tilda Chef Team of the Year online via the Hotelympia website: www.hotelympia.com/salon-culinaire.
Chefs looking for great tasting recipes made using Tilda should visit www.tilda.com/professionals/  and follow @TildaChef on Twitter.