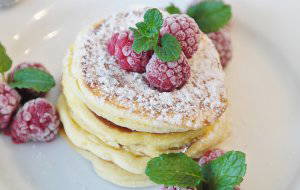 As we all know today (28th of February)  is Pancake Day, so be ready to cook a load of pancakes in the kitchen!
Pancake Day is also known as Shrove Tuesday. Shrove Tuesday is observed by many Christians and is the last day before Lent so it is seen as the last day that you can "gorge" before the fasting period of Lent (1st of March 2017 to the 13th of April 2017). Some may even call it "Mardi Gras" which is French for "fat Tuesday"!
So now that we have the fact-based paragraph out the way lets focus on the Pancakes!  So the first thing is why Pancakes? Well, Shrove Tuesday was the last opportunity to use up eggs and fatty foods and it turns out that pancakes are the best way to get rid of both so it's a win-win!
So now, what is the best to put in your pancakes? Well, there are a vast majority of fillings that you could have with pancakes like melted chocolate, Ice Cream, Maple Syrup, Lemon Juice, Sugar, various sauces or if you have any Strawberries left over from National Strawberry Day (Yesterday).