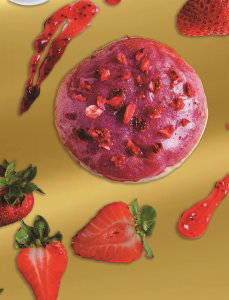 Iconic American sweet bakery brand Otis Spunkmeyer, is helping caterers fall in love with the additional profit which can be made during the month of love, with a brand new Champagne & Strawberry Donut.
A rich fruit berry compote filling and a Champagne sparkle glaze finished with real strawberry pieces complement the world famous Otis Spunkmeyer light and fluffy dough to create a real Valentine's treat that will help operators banish the January blues and beckon in the season of romance.
Perfect served on its own, on-the-go, or as part of an incremental deal alongside a hot drink; caterers can use the premium donut to drive serious profits in the lead up to Valentine's Day and beyond.
Otis Spunkmeyer is part of the ARYZTA Food Solutions family of brands. The company's Head of Marketing, Paul Whitely comments: "Nothing says Valentine's like Champagne and strawberries, which is why this newly launched, premium donut will really hit the sweet spot with consumers in the mood for love. This time of year presents operators with an opportunity to help their customers feel good by offering them something special."
The Champagne & Strawberry Donut from Otis Spunkmeyer is just one from a sumptuous range of over a dozen tempting and contemporary flavours, packed with tasty, high-quality ingredients for that extra special indulgence. All donuts are supplied frozen, in cases of 36 and can be ready to enjoy in just 90 minutes, helping save on costly wastage.
ARYZTA Food Solutions is a UK foodservice specialist – parent to a family of brands to meet the needs of modern hospitality. Sub-brands include: high-end frozen patisserie and viennoiserie brand, Coup de pates; essential ingredients and ready meal solutions from everyday bakery brand, La Carte; gourmet Swiss bakery brand, Hiestand; American sweet bakery brand Otis Spunkmeyer and inspirational ingredients and garnishes from Bouquet Garni. ARYZTA Food Solutions also supplies beverage concepts from ProJuice.